Chapter Service Program: 
The Missouri Conference stands ready to aid AAUP chapters and members in any way that it can. If you work in Missouri and do not have a local chapter, feel free to contact any conference officer directly, especially the Conference Service Director, Keith Hardeman at keith.hardeman@westminster-mo.edu
Official AAUP Statements and Polices
The AAUP's Redbook, which contains all of the organization's policies and reports, can be ordered here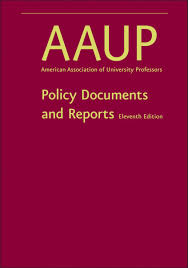 THE EDUCATION NOT PRIVATIZATION TOOLKIT
Privatization of online higher education is on the rise. For-profit online education corporations like Academic Partnerships, Kaplan, Wiley, Pearson, and Blackboard contract with public and private nonprofit institutions to provide digital platforms for educational content, recruit students, manage enrollment, facilitate the development of course materials, and more. While the use of digital platforms and online teaching tools can enrich higher education, elements of contracting with for-profit online education corporations can present problems in areas of interest to faculty, particularly academic freedom and shared governance. AAUP and MOAAUP have resources, surveys, and social media shareables to help you learn how you can get involved in making sure that higher education serves the common good, not private profit.
You can find the toolkit here.
Links of Interest
The Chronicle of Higher Education
Association of American Colleges and Universities
Association of Governing Boards (AGB)
MOAAAUP  —  DEFENDING ACADEMIC FREEDOM AND SHARED GOVERNANCE ACROSS MISSOURI