Welcome to the Missouri Conference of AAUP.  If you are a member of the national AAUP,  you are also a member of MOAAUP.  Not a member of AAUP?   Join Here
No AAUP chapter on your campus?  You can still join AAUP.

News From National AAUP Meeting, June 13-16, 2019
Organizational Changes to the AAUP
"We are pleased to announce that the AAUP will be moving forward with organizational changes after affirmative votes at last week's AAUP annual meeting and AAUP Collective Bargaining Congress regular meeting. Both bodies voted overwhelmingly to proceed with a package of changes that combines the AAUP-CBC and the AAUP. The AAUP-CBC will no longer exist as a separate entity and its programs will be transferred to the AAUP. This will streamline our governance and organizational structure to ensure that we are using our resources to support our chapters and conferences."
Source: https://www.aaup.org/news/organizational-changes-aaup#.XQ7qMuhKiUk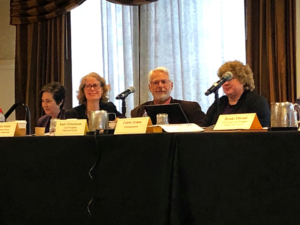 Below:  On the left is Rudy Fichtenbaum, President of the AAUP
On the right is Hank Reichman, Chair of Committee A.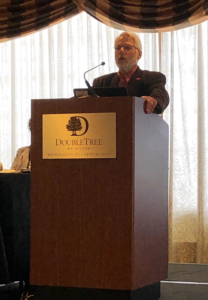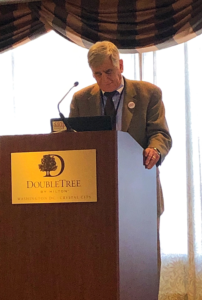 Now, more than ever, the AAUP is an important voice for academic freedom and shared governance.  In states such as ours, chapters are vital to the ongoing protection of these crucial principles.  What can chapters and state conferences do?
— Institutionalize AAUP policies.  Faculty manuals and handbooks should incorporate explicitly AAUP principles and policy recommendations.  Having an AAUP chapter and coordinating efforts across the state is one way of ensuring that these issues are addressed.
—Speak Truth to Power.  National AAUP and your state conference stand ready to offer resources, organizing help, and speakers to assist all faculty in the state.  As Cary Nelson writes:
"The most immediate difference an AAUP chapter can make is to be a source of frank, honest, and forthright commentary on nearly every aspect of campus life. A chapter, moreover, is not a voice crying in the wilderness. Whenever possible, it should represent the consensus view of a core faculty group formally recommending actions, issuing warnings about real problems, and deflating administration hyperbole about false emergencies. An AAUP chapter provides the faculty with a voice that can shed sunlight on cant, self-interest, and deception and applaud good practices. Then, of course, the chapter needs to promote solutions to problems."  (see https://www.aaup.org/article/aaup-chapter-can-transform-your-campus#.XQ7tBuhKiUk0)
— Organize Faculty locally and at the state level.  Most of us face similar challenges.  The AAUP affords us both the mechanism by which we can address those challenges ad the opportunity to engage with our colleagues at other institutions.  
The AAUP is as strong as its membership base.  If even a fraction of faculty become members the influence of the organization, the number of programs it offers, and the resources it has available will grow enormously.  
MOAAUP SPRING CONFERENCE, 2019
News from this year's conference and minutes from the April 28, 2018 at the University of Missouri, Kansas City are posted on the MOAAUP Conference Page.
AAUP NATIONAL CONFERENCE
The 2020 AAUP conference will be the last annual conference.  Following that, the conference will be biennial.  Date and location of next year's conference are TBA.  
AAUP REPORTS AND POLICIES ON ROLE OF FACULTY IN CASES OF FINANCIAL EXIGENCY
These reports expand the definition of financial exigency to include cases such as those that have recently arisen in Missouri.  They are a valuable resource for those interested in understanding the role of faculty in budgeting, academic reorganization, and governance.
https://www.aaup.org/report/financial-exigency-academic-governance-and-related-matters
MOAAAUP  —  DEFENDING ACADEMIC FREEDOM AND SHARED GOVERNANCE ACROSS MISSOURI