Committee A promotes principles of academic freedom, tenure, and due process in higher education in Missouri.  For any concerns about violations of academic freedom or violations of tenure, including personal cases, contact the Chair of Missouri Committee A, David K Robinson at davidrobinson19732@gmail.com
All matters brought to the committee remain confidential, until such time as the aggrieved faculty member decides to go forward to state officers, to the National Committee A, or to the public.
Chapter Service Program: 
The Missouri Conference stands ready to aid AAUP chapters and members in any way that it can. If you work in Missouri and do not have a local chapter, feel free to contact any conference officer directly, especially the Conference Service Director, John Harms at johnharms@missouristate.edu or by phone at 417-836-5676.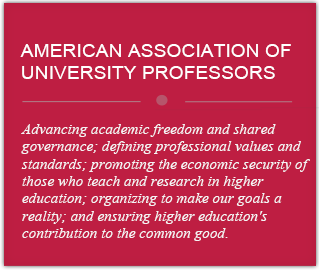 MOAAAUP  —  DEFENDING ACADEMIC FREEDOM AND SHARED GOVERNANCE ACROSS MISSOURI